Customer Loyalty Program
From time to time, T-Cube Signs offers various promotions to it's customers. One of the promotions that the customers can take advantage of is through the customer loyalty program. This is how it works ......

You will receive a 5% off code with your first order of shipment. Going forward, you can order from T-Cube Signs and get 5% off the total from the nameplate products. The discount does not apply to shipping/handling and sales tax. This discount also currently does not apply to interior signs.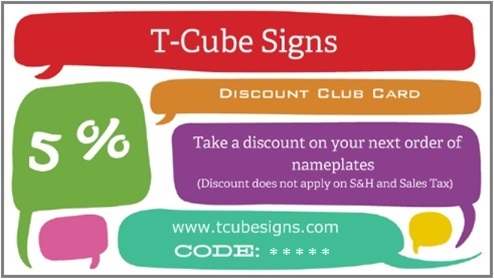 So, it's as simple as this ⇒ purchase today ⇒ get a 5% off code ⇒ apply the same code for your future purchases ⇒ and save money.
* This promotion may end at anytime without notice.